A Review on Bitcoin Exchanges: Remitano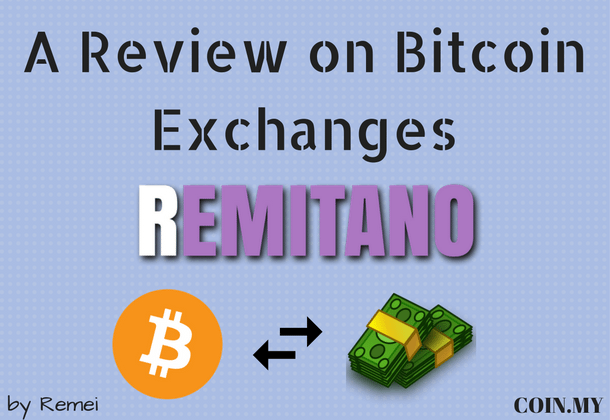 Remitano is a platform that enables peer-to-peer Bitcoin exchanges. It's essentially a Bitcoin marketplace where people can buy and sell Bitcoin easily and safely. It's one of the exchanges that is quickly becoming popular among Malaysians due to its attractive rates and simple user interface. In this post, I'll be doing a review on Remitano.
Overview
Remitano is a product of Babylon Solutions Limited that was incorporated in Seychelles. The Remitano team is comprised mostly of banking professionals with extensive experience in financial products, E-currencies, Payment System and Agile Software Development, and others. Currently, it has service in many countries including United States, Australia, Malaysia, Nigeria, Vietnam, Cambodia, China and is growing everyday.
While a lot of centralized exchange platforms are heavily dependent on the banks to receive deposits and facilitate withdrawals for customers, Remitano is completely independent from traditional banking partners. The platform is only responsible for the exchange of Bitcoins, and all bank related transactions are handled by the users.
User Interface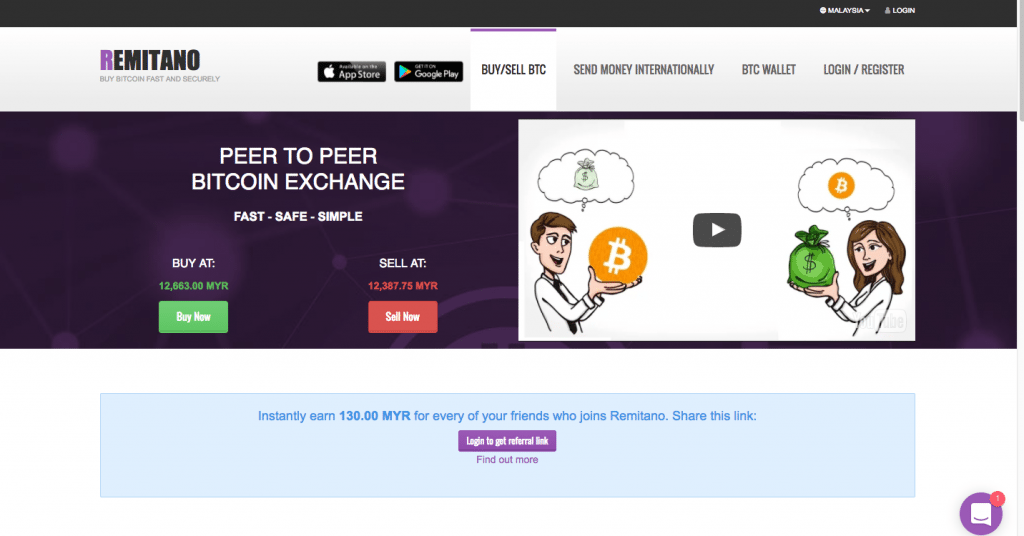 When you open the website, your focus will be directed to the Bitcoin price at the time. This makes it easy for you to decide if you want to join the marketplace or wait for the price to rise/drop.
The menu on the upper right is pretty easy to navigate through. The Buy/Sell BTC tab is the default front page where you can view the advertisements for buying/selling bitcoins.
You would need to register in order to start buying or selling bitcoins. The process for new user registration is pretty straightforward. As added security, Remitano uses Authy authentication on desktops and TouchID on its mobile application. Once you've set up as a new user you're pretty much good to go.
To deposit bitcoins into your account, you can use the BTC wallet tab where you can also make withdrawals from your account. Under the tab, you can also look through your historical transactions. Remitano also offers international remittance service through their platform and their rates are quite competitive.
To ease customer experience, Remitano also provides a live chat option if you have any issues with your trade. Their terms of service and trading policy are very easy to understand and very useful, especially if you're a new user.
Trading
In order to start a trade you can either advertise or choose from the ads. Once a trade is confirmed, bitcoin buyers are given 15 minutes to make payment. The amount of bitcoins will be locked until the payment is made or the trade is cancelled by the buyer. A seller cannot cancel a trade but the trade will be cancelled immediately if a payment is not made, once the 15 minute passes.
Parties can summon each other to remind them of the ongoing trade. Remitano offers 1 call and 10 summons from Remitano application on mobile for every trade. Both parties can enter into disputes if the seller did not receive payment (after it is marked as paid) or the buyer did not receive bitcoins (after payment is paid). It's the only time that the buyer and seller can communicate with each other during the trade. If the issue is not resolved within 3 days, Remitano staff will take over the responsibility of settling the dispute.
Issues
One of the issues users often face in this platform is dishonest buyers. When a trade is in progress, the bitcoins are locked and cannot be used in another trade. The price would also be locked at the current price. While most buyers pay within the timeframe given, some buyers enter the trade into dispute. This is so they can freeze the trade up to 3 days so they can delay payment. Consequently, bitcoin sellers can potentially face huge loss from their bitcoins being locked instead of sold in another trade.
Furthermore, reputation is important, as it acts as a substitute for trust. At the conclusion of each trade, users can rate each other. More often than not, the ratings given are a reflection of each other. For example, if a seller takes too long to release bitcoins, the buyer will give a negative rating. But at the same time, the seller can 'payback' and give similar negative rating which will affect the buyer's reputation. It's usually a non-issue and can be neglected if the user mostly receives positive rating, but it's still a black mark in their profile.
In conclusion, Remitano's strength lies in its accessible user interface as well as strong customer support. Remitano aims to establish itself as the biggest Bitcoin exchange platform in Asia and Africa countries. As with a lot of other exchanges, Remitano has its own issues that can be improved on so it can continue to win the favours of its users.
Pros: Simply and user-friendly UI; easy to navigate; users trade directly with each other: lower fee of 0.5% compare to other exchanges
Cons: Disputes can take very long to resolve; no communication between users except in trades; ratings can be unfair
P.S – Click this link and register an account with Remitano today!