Bayan Token: Shariah-compliant Utility Crypto Token
If you've been keeping up with new and exciting ICOs in town, you've probably heard of Bayan Token. If you haven't, worry not. You're not too late and here's your chance to find out more about Bayan Token. In fact, the author will try her best in shedding some light on this new project.
What is Bayan Token?
On the 28th June, BYT Technologies Pte Ltd announced the launching of Bayan Token crowdsale in a press release. According to the press release, BYT Technologies is a tech company incorporated in Singapore, and it is using Blockchain technology to enhance usability and create real value for its token holders, as well as the general population.
Based on the core concept of "Good for Goodness", the team has created a token that is Shariah-compliant and committed in delivering goodness through redeemable value as well as their high-profiled projects. Bayan Token is a ERC20 token built on the Ethereum platform, and it utilises the smart contract function as a mechanism to ensure that token holders can redeem value instantly and automatically.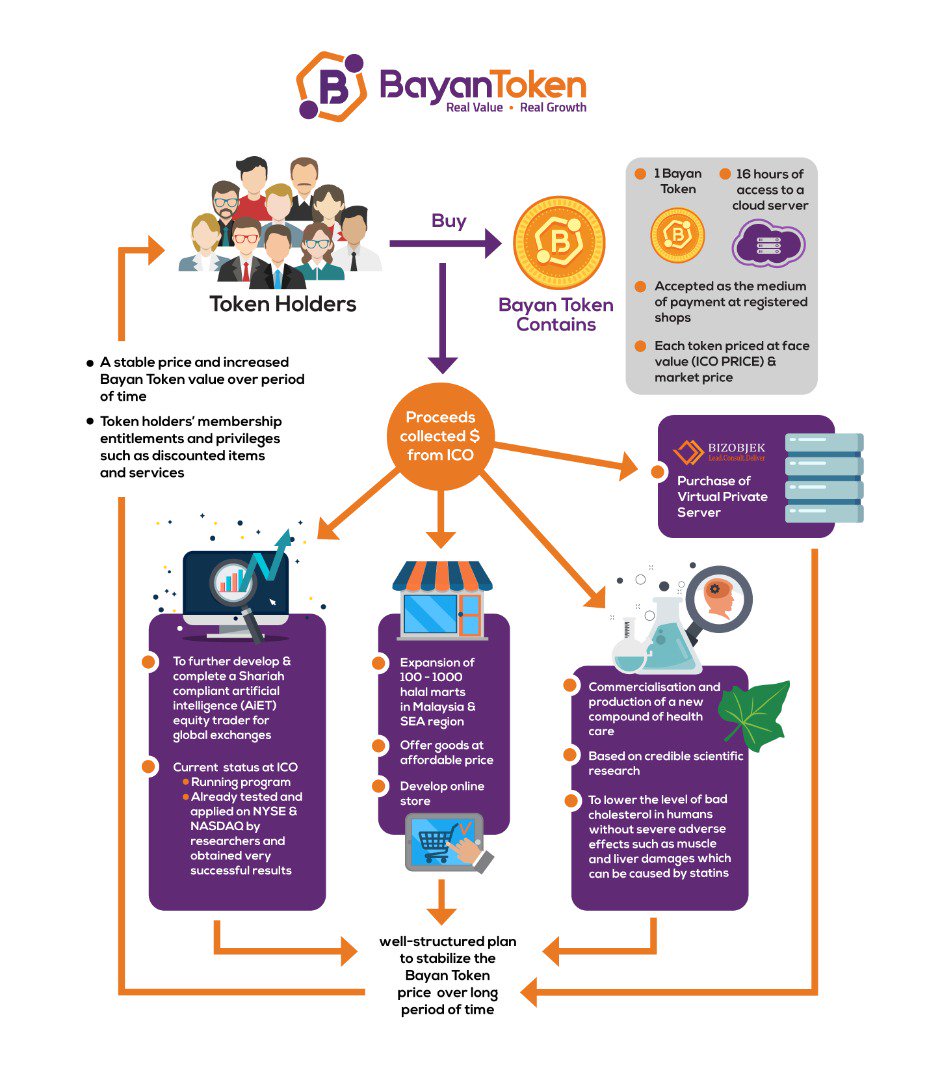 Each Bayan Token contains 16 hours' worth of private cloud server space, where one cloud server is made up of 2 GHz of computing power, 1GB of memory, 5GB of SSD disk and 10GB bandwidth per month of data transfer.
What are the projects?
BYT Technologies Pte Ltd is planning numerous projects in the future, but there are three main projects that it will be focusing on. During the selection process, the Bayan Token team has carefully analysed the potential of each project and chosen three projects that are already operating in a small scale, indicating that the funds raised will be used to expand ongoing projects, not those at ideation stage. This is so that neither investors nor token holders are exposed to more risks than necessary if a project fails in the initial stage.
Shariah Compliant Artificial Intelligence-Equity Trader (AiET Z2 System)
I'm sure you've read articles on trading bots right? They are basically computer programs that analyse trends and automatically execute trades. Neat, huh? But this one's better. The AiET Z2 system is based on Artificial Intelligence and it uses both fully automated and semi-automated strategies for executing trades.
According to their whitepaper, this system "provides the best investment and trading opportunities by streamlining the whole process of making investment decisions to produce more efficient, profitable trades". You can read more about the system in their whitepaper, but what's important is that the system has already been tested in the global stock exchange market, specifically NYSE and NASDAQ with fruitful success. With the funds raised from the ICO, the system will be further developed and is set to explore other markets, including cryptocurrency.
Development of Halal Mart Network
Did you know that although online stores are fast becoming favourites for shoppers, physical stores are still the go-to especially for daily needs such as groceries, fresh food and apparels? But what if you can have both worlds? That is what Bayan Token envision for its Halal Mart: the opening of at least 100 Halal Marts chain across not only Malaysia but also Singapore, Brunei and Indonesia within the next 3 years and also a platform that offers small and large vendors a chance to sell Hala products to a wide range of customers.
According to their whitepaper, "Malaysia's position as one of the biggest Halal hubs is an attractive selling point to investors, small to medium retailers and most importantly, conscientious consumers". This project is based on existing business model, Elzar Mart which has already been opened in several locations within Malaysia, and further expansion is planned under the flagship of Halal Mart with the funds raised during ICO. In the future, BYT token holders will be able to use their tokens to make purchases at selected Halal Marts across the country.
Commercialisation of Basella Alba Leaf Extract as Health Supplement
So we've already covered the financial as well as the retail industries, let's move on to the health industry for the final project. First, some health lessons. What do you know about cardiovascular diseases? Did you know that one of the factors that increase the risk of cardiovascular diseases is high level of cholesterol, or hypercholesterolemia? And did you know that hypercholestrolemia affects 1 in 500 people in most countries? According to a study by the World Health Organization, hypercholesterolemia is estimated to cause 2.6 million deaths annually and 29.7 million disability-adjusted life years (DALYs) in the global population.
At the moment, the only available drug prescribed as a prevention for those with elevated risk of cardiovascular diseases is statin, which unfortunately cause some long-term side effects, including muscle and liver damage, rhabdomyolysis and acute renal failure. That is where Basella Alba comes in. The health supplement that will be developed based on a present study of the properties Basella Alba leaf extract is organic in nature and have been reported to possess beneficial effects in treating hypercholesterolemia and its related diseases.
It is definitely a groundbreaking project to get behind, and has a huge commercial potential not only locally, but also in the global health market. Not only that, Bayan Token holders will actually be investing in something that is beneficial for society and it brings us back to the principle of "good for goodness" that Bayan Token is promoting.
Why is Bayan Token different?
Did you see the purple banner right on top of their website? Of course. It reads 'A Shariah-compliant Utilty Crypto Token'. Interestingly, this is what sets Bayan Token apart from its competitors. One important element contained in Bayan Token is it is backed by an asset that provides real value to its holders.
Why is this important?
Glad you asked. In Islam, every financial dealings must be based on real goods or assets that have intrinsic value. For example, Islam doesn't see money as having its own intrinsic value; it is only ever acceptable as a medium of exchange. Similarly with cryptocurrency, on its own, it does not have any intrinsic value. Therefore, to solve this issue, Bayan Token is backed by an asset of real value and it is considered as 'Mal Mutaqawwim' or something that can be beneficial or of value according to Syara'.
Bayan Token has received accreditation as Shariah-compliant from Elzar Shariah Solutions Sdn Bhd, which act as a Shariah advisor for Bayan Token. According to the certificate, which you can accessed on their website, the structure of Bayan Token complies with the principles that is set within the Shariah law, which is represented by:
16 hours of benefits of cloud server
containing value that is accepted generally by cryptocurrency users and can be traded within the cryptocurrency market
the capacity of Bayan Token as a utility, where it can be used in exchange for goods available in stores under one of its projects
Who is behind Bayan Token?
I'm pretty sure this is a very very important question for most of you, and can even possibly a deal breaker. Allow me to shed some light on some of the people working behind the scenes of Bayan Token. If you look at their website, you'll be able to see that the Bayan Team consists of people who are experts in numerous fields, including cryptocurrency, Shariah compliance, banking operations and compliance, blockchain and peer-to-peer technologies, payment processing, artificial intelligence, internet marketing and economics, market operations and biotechnology.
Dr. Zaharuddin Abd. Rahman, who is Chairman of BYT Technologies Pte Ltd is a name that is already renown within the local community. He is Managing Director of Elzar Group of Companies (Elzar Shariah Solutions Sdn Bhd, Elzar Resources Sdn Bhd, Elzar Trading Sdn Bhd and K-Fiqh Sdn Bhd) and has been an Assistant Professor at the Kulliyyah of Economics, International Islamic University Malaysia (IIUM) for more than 10 years. He also has a lot of experience in dealing with Shariah compliance, having been Shariah advisor to a number of institutions, including Bank Negara Malaysia, RHB Islamic Bank Ltd, OSK Investment Bank, Deutche Bank, Al-Rajhi Bank Malaysia, Standard Chartered Saadiq Bank, ACR ReTakaful Bahrain, BIMB Securities Sdn Bhd, BNP Paribas Bank amongst others.
Another interesting team member is their amabassador, Vince Focarelli. If you've been keeping abreast with the underworld (just kidding!), you would know that Vince was once a name that was feared in the community of South Australia. He was once the leader of the notorious gang 'Comanchero', but has now turned a new leaf and decided to contribute his time and energy for Islam, and in this case, through promoting Bayan Token.
What's next for Bayan Token?
As you can see in the roadmap above, the three projects listed above is due to start in November 2018. At the same time, Bayan Token will go through testing for redemption from their cloud server. The team also expects Bayan Token to be listed in exchanges by the end of this year. 2019 will be the benchmark for official launching of Bayan Token projects to the public.
Bayan Token ICO
Bayan Token is now holding their ICO from the 27th June to 27th July 2018. Each token is offered at the price of USD0.80 and the minimum amount you can buy us 50 BYT or USD$40. To know more about Bayan Token, you can visit their website here: Bayan Token.
Disclaimer: This review is a paid review and is published for informational purposes only. It does not represent author's endorsement or recommendation of the ICO and/or cryptocurrency/token in the review. Please undertake your own research before deciding to buy/join/invest in any ICO projects.